企業トピックス
SMBC Trust Bank -PRESTIA- Offering comprehensive English support for international residents in Japan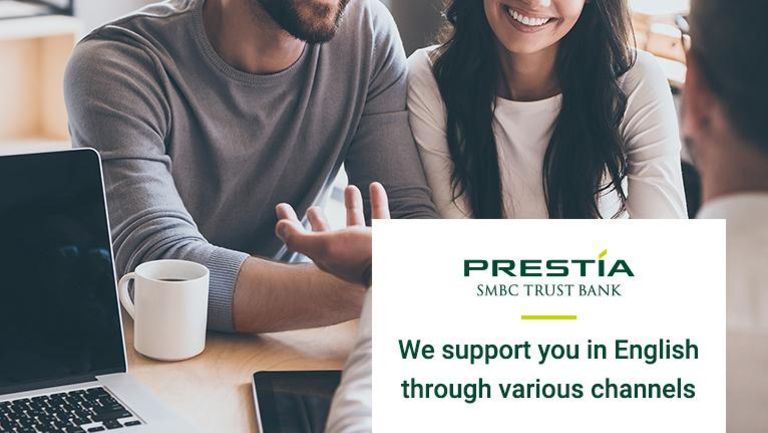 SMBC Trust Bank -PRESTIA- has been highly rated by international residents in Japan for its customer-friendly services.
Banking in Japan may sound intricating for international residents in Japan. It is crucial but frustrating because of the complicated language, processes and documentation or limited business hours. For those who start living in Japan, or have been struggling with your Japanese bank, SMBC Trust Bank is here to help.
We have enhanced our capabilities of having financial discussions in English, so that our foreign customers are able to feel comfortable in going through all banking process from daily transactions - i.e. debit services or cross border transactions-, to asset management such as loans or investments.
Why choose PRESTIA?
We offer ultimate English services through various channels, focusing on comfortable and safe banking. Most major transactions can be simply done through our secured Online Banking.
PRESTIA Phone Banking is also available for 24h/365d in English, in which you can directly ask for any inquiries and get assistance for transactions from all around the world without any anxiety of time difference.
We are also welcoming our customers to visit our Global Branches, flagship branches specialized for English speaking customers, located in Hiroo and Akasaka. You can choose your favorite channel which most suits your situation.
Products and services highly rated by foreign customers:
Global Pass
- a cash card with Visa debit service that can be paid in 18 currencies
Loan Products
- available to foreign national customers without any special add-fee
PRESTIA GOLD Service
- special service for special customers, offering preferential fees for some transactions and preferred interest rate for some deposits and loan products
Some Customer Feedbacks
We have carefully listened to customer feedbacks to improve functionality and efficiency.
Here are some feedbacks we have received:
"Good online service, and cash card is accepted everywhere and easy to use. "

"Amazing service—smooth, friendly and efficient. A banking pleasure. "

"PRESTIA Gold account is highly recommended for the ease of both domestic and overseas transfers. "

"Staff was very professional and explained everything concisely in fluent English. "

"Very happy with the entire team that handled mortgage even for a foreigner without permanent residence. "
If you have any difficulties with your banking in Japan, please feel free to speak to our bank staffs.