"Demography challenges, lessons from Japan & for Japan"
Healthcare Conference (in-person & online)
The French Chamber of Commerce and Industry in Japan (CCI France-Japon) organizes the 3rd edition of the Healthcare Conference, focusing this year on the different challenges around demography, and the lessons to be learned from and for Japan Thursday, September 22nd, 2022 from 15:30.
This event is part of a series of events named 'Business Leaders Forum' which aims at gathering industry experts on dedicated events to discuss industry challenges, and to provide networking opportunities in order to promote France-Japan collaboration.
More specifically, while many preconceptions have been associated to Japan's demography, this event will address the relations between the healthcare system and the demography, discussing the importance of longevity in the country and analyzing the different challenges that are linked to it.
This conference is about understanding the place of Japan within global demographic dynamics. It is highly related to the France-Japan Business Summit that will take place on November 29th, which will cover the following topic : Japan as a model for the future - "What are the learnings that can be relevant for the world?"
Press will also be invited to attend the conference.
PROGRAM & SPEAKERS
Master of Ceremony: SAKAI Yukiko, Partner, McKinsey & Company
15:30 Opening Remarks
• Nicolas BONNARDEL, General Manager, CCI France Japon
• Christophe GRIGNON, Economic Counsellor,Embassy of France in Japan
15:40 OVERVIEW KEYNOTES
• HASHIMOTO Taisuke, Director, Healthcare Industries Division, METI
• Jeremy GROSSAS, Japan General Manager, Vaccines Business Unit, Sanofi K.K.
16:10 PANEL 1 - How to combat low birth rate in Japan
Moderator: SAKAI Yukiko, Partner, McKinsey & Company
• Alexandre DE MURALT, President, Merck
• KAWANO Taeko, Executive Officer and Chief Human Resources Officer, AXA LIFE INSURANCE CO., LTD
• KURODA Keiji, Sugiyama Clinic Shinjuku, Division manager, Juntendo University, Department of Obstetrics and Gynecology, Part-time associate professor
16:55 - 17:15 Coffee break
17:15 KEYNOTES - Compressing morbidity, a solution to the demography challenges
• Philippe AMOUYEL, Professor of Public Health at the University of Lille, Managing Director, Alzheimer Foundation
17:45 PANEL 2 – How to increase the "healthy years" of Japanese?
Moderator: SAKAI Yukiko, Partner, McKinsey & Company
• YASUNAGA Yoshihiro, Director of Sales & Marketing Department, CYBERDYNE Inc.
• OCHIAI Leon, Head of Public Affairs, Sanofi K.K.
• UENO Rie, Medical Affairs Director, bioMérieux Japan Ltd.
• OKUMURA Hajime, Scientific Affairs Senior Manager, bioMérieux Japan Ltd.
• AKITA Masao, Head of Government Solution BD, CMIC Solutions Co., Ltd.
18:45 Concluding remarks
SAKAI Yukiko, Partner, McKinsey & Company
18:50 - 20:30 Networking cocktail
Date Thursday, September 22
Time 15:30-20:30 (Doors open at 15:00)
Language English/Japanese (simultaneous interpretation)
Venue CCI France Japon "L'Espace" - at CCIFJ office!
Address 2-2-2 Nihombashi, Honcho 1F, Chuo-ku, 103-0023 Tokyo
Fee
Please pay via Stripe Payment online system before registration
Presential attendance:
* 8 000 yens for members of the French Chamber
* 16 000 yens for non-members
Remote attendance:
* 5 000 yens for members of the French Chamber
* 10 000 yens for non-members
Deadline for registration/cancellation Monday, September 19, 2022, 17:00.
Any cancellation after the deadline or no-show will be charged.
All participants are required to pay by CREDIT CARD (via Stripe Payment online system) before the event. Thank you for your understanding.
THIS CONFERENCE AND THE NETWORKING COCKTAIL THAT WILL FOLLOW WILL BE ORGANIZED TAKING INTO ACCOUNT COVID-19 SANITARY REQUIREMENTS (including HAND SANITIZER, FACE MASKS, DISTANCE BETWEEN SEATS…).
* Event format may be adjusted depending on COVID-19 situation.
Register for this event
To register for this event, please click on the button "LOG IN", complete the form and click on the button "CONFIRM AND PAY". Please register each attendee separately. Number of Seats is limited, be first to register!
2022 Business Leaders Forum Sponsors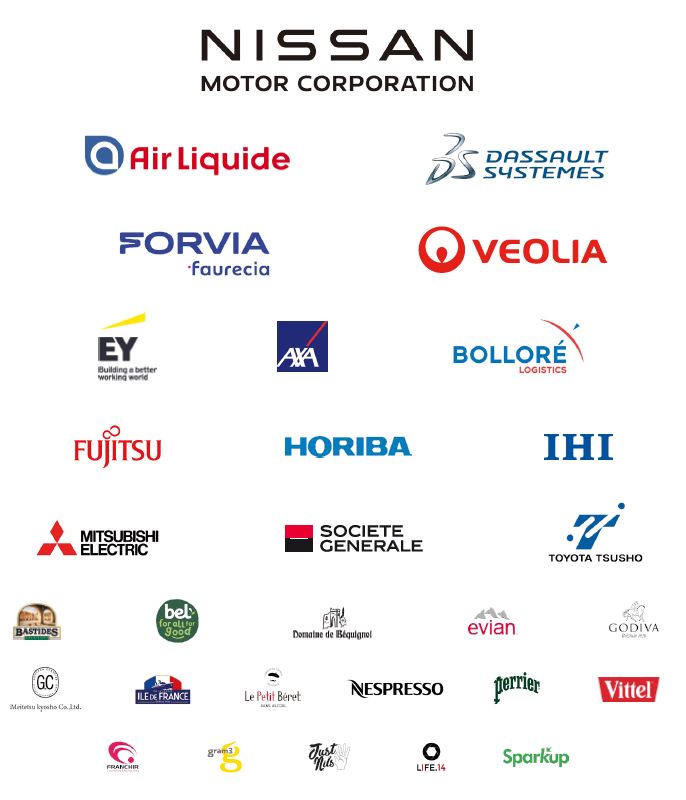 This event is kindly supported by