This webinar will be held online. You will receive an access link and login information by noon the day of the event.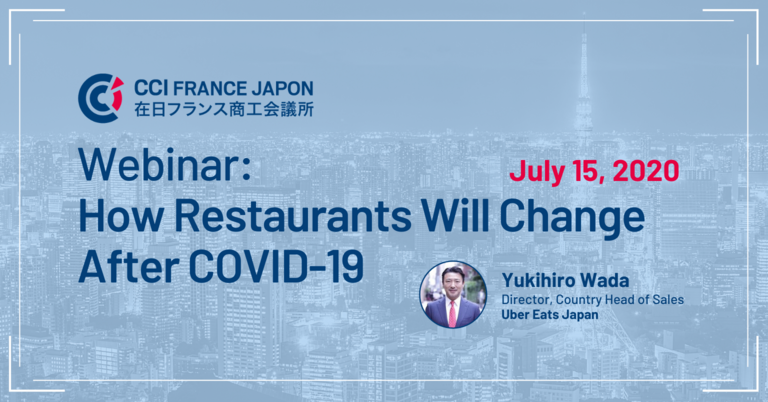 The French Chamber of Commerce and Industry in Japan invites you to its next webinar on Wednesday, July 15, 2020 where Yukihiro Wada, Director, Country Head of Sales, Uber Eats Japan, will share his point of view on the restaurant industry after COVID-19.
Introduction to the webinar:
COVID-19 has been the restaurant industry's greatest challenge to date. Never before have so many restaurants been forced to cease operations. However, restaurants that plan ahead to adapt and refine their "restaurant model" for the next normal will be better positioned to bring sales back to precrisis levels.
Based on his experiences as CMO & CTO at Skylark Holdings and Country Head of Sales at Uber Eats Japan, Mr. Wada will share his observations of the changes of Japanese restaurant industry to date and likely scenarios for recovery.
About the speaker
Yukihiro Wada - Director, Country Head of Sales, Uber Eats Japan
Yukihiro started his career in finance, and he joined McKinsey & Company after getting MBA at MIT Sloan School of Management. After McKinsey, as a professional manager, he experienced various senior positions - Director at Advantage Partners, CEO at Interbrand Japan, Country Head of Strategy & Insights at Google Japan.

In 2018, he became a Director, Senior Executive Vice President, CMO & CTO at Skylark Holdings, the largest restaurant chain in Japan with USD 3.5 billion sales. He transformed Skylark into one of the most digitized restaurant chains in the world – deep learning-based dynamic & personalized digital menus, 20 million downloaded app, Cloud POS system.

In 2020, he joined Uber as Country Head of Uber Eats Sales Japan.