Kanto - Tokyo
Agility: why having this capability in your organization is so critical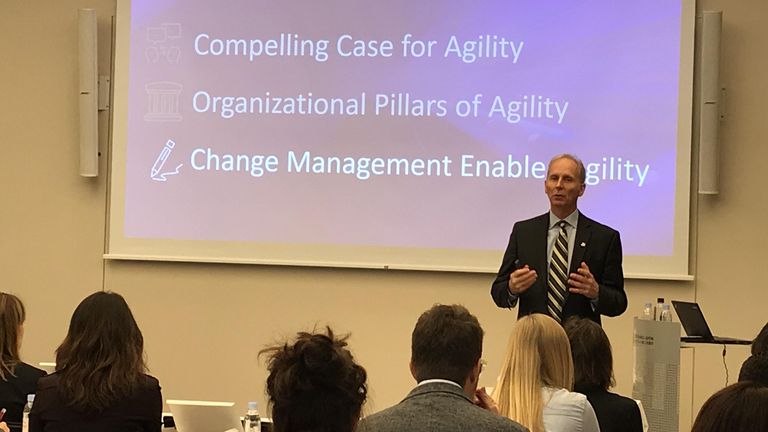 The final HR committee of 2019 was focused on the much talked about topic of organizational agility, the new strategic imperative of the 21st century. Over 20 participants from a wide range of industries and functions came to listen to Ron Stewart, President of Prosci Canada, who divided his presentation in three main parts: "Making a compelling case for agility", "What are the attributes of agile organization" and "How change management enables agility".
After a definition of the meaning of agility in a business context, Ron introduced us to the ADKAR model which outlines the 5 steps to follow to be prepared for an organizational change: Awareness, Desire, Knowledge, Ability and Reinforcement. He then explained how to go from the big picture of the change you wish to implement to the detailed actions you need to put in place throughout the organization to make the change successful. Through a series of examples, Ron showed us that any kind of change can impact your employees' mindset and give an unexpected turn of events to the vision of your initial project, if not anticipated and communicated properly. In one word: be prepared!
CCI France Japon wishes to thank the speakers, participants, president of the HR Committee, Grégory Dancs, and extend its special thanks to Quang Nguyen, Managing Director of Ataway Japan K.K. (CCI France Japon member and the exclusive partner of Prosci in Japan) for the introduction of Ron Stewart and the precious help in preparing this committee.