Companies news
Become an exhibitor at EXPAT EXPO TOKYO 2021, the Fair for International Residents in Japan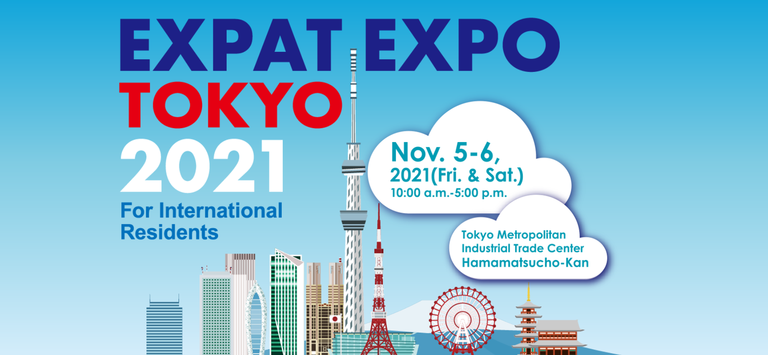 EXPAT EXPO TOKYO 2021 is only one exhibition for international residents in Japan.
The second edition will be held on November 5th and 6th, with Support of the Ministry of Foreign Affairs of Japan.
This expo gives foreign residents and their families the opportunity to meet companies, local governments, and organizations that provide goods and services in English. Also, visitors can enjoy Japanese culture by stage events and workshops, then get luxurious prizes!
More than 2.8 million of foreign nationals are living, working, and studying in Japan (Statistics Bureau, Ministry of Internal Affairs and Communications). Although the growth rate is temporarily slowing down due to the COVID-19 spread, the number is likely to increase thanks to efforts by the government and businesses including introduction of "specified skilled worker" visa, recruitment of "highly skilled professionals", and promotion of diversity. On the other hand, many foreign nationals are facing difficulties in daily lives because of language and cultural barriers. To respond to this situation, the 1st EXPAT EXPO TOKYO was held last year as a matching platform for internationals and local businesses providing foreigner-friendly services, and welcomed a lot of foreign nationals and their families. The two-day event will come back with a five times larger scale under the support of the Ministry of Foreign Affairs of Japan, Minato City, Japan National Tourism Organization (JNTO), Japan Association of Tourism Agents, and chambers of commerce in Japan.
Book your stand space
Application for EXPAT EXPO TOKYO 2021 is now open for all businesses aiming at international residents. As an alternative for the shrinking inbound market due to COVID-19, This event will be a unique opportunity to showcase your services and expand your brand recognition in the existing expat market in Japan. The sale will end when all the stand has been sold.
If interested in approaching international residents or HR and GA people in companies that employ foreign nationals, please contact expat_expo(@)inovent.co.jp
Informations :
Date: November 5-6, 2021 (Fri. & Sat.)
Venue: Tokyo Metropolitan Industrial Trade Center Hamamatsucho-kan
Contact:expat_expo(@)innovent.co.jp