Companies news
Circular Economy Seminar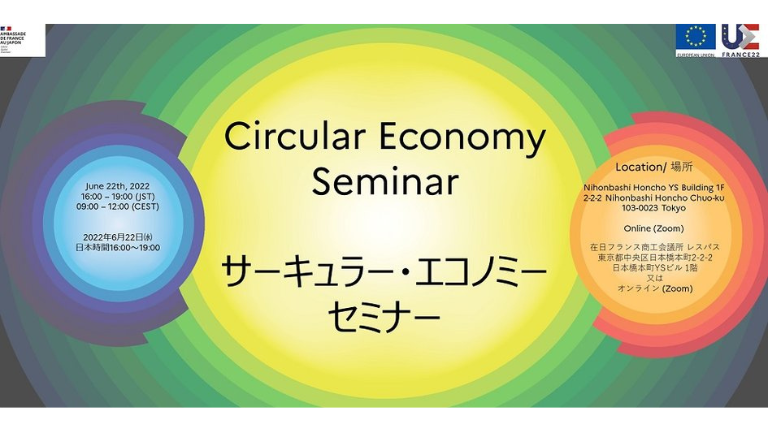 During the French Presidency of the Council of the European Union, the Embassy of France in Japan (Economic Department) in cooperation with the Delegation of the European Union in Japan, will organize a seminar on June 22nd, 2022 dedicated to circular economy.
This seminar, taking place in Tokyo and broadcasted online via Zoom, will bring together Japanese, French and European institutional and private stakeholders to discuss the latest EU and Japanese policies and experiences regarding circular economy. The seminar will also highlight collaborations and innovative projects from private actors in areas such as new design modes, recycling, reduction and reuse of plastics, by looking at circular economy strategies from different sectors.
This seminar is co-funded by "Rethinking Plastics – Circular Economy Solutions to Marine Litter" project of the European Union and the German Federal Government and by the French Ministry of Ecological Transition and Territorial Cohesion.
Date and time : Wednesday 22nd June 2022 16:00 - 19:00 (JST) / 9:00 – 12:00 (CEST)
Modalities : Hybrid format, face-to-face at l'Espace@CCIFJ (Tokyo) and broadcasted on ZOOM
Audience : up to 70 participants onsite and 500 online
Language : English / Japanese (simultaneous translation)
Agenda (tentative)
15:30 - 16:00 : Doors opening
16:00 - 16:15 : Opening remarks
16:15 - 17:05 : Keynote lectures - The circular economy at the heart of French, European and Japanese policies
17:05 - 17:55 : Short presentations - Good practices and collaborations of the EU/FR/JP private sector on eco-design, recycling and sustainable products
17:55 - 18:05 : Break
18:05 - 18:50 : Round table - Trends and advances in the circular economy in EU and Japan
18:50 - 19:00 : Closing remarks and conclusion
Free registration