Free Webinar: Dr. Jacques Attali, "Intelligence of Europe"; Interpreting Cities, People and the World in the So-Called "With-Corona" Era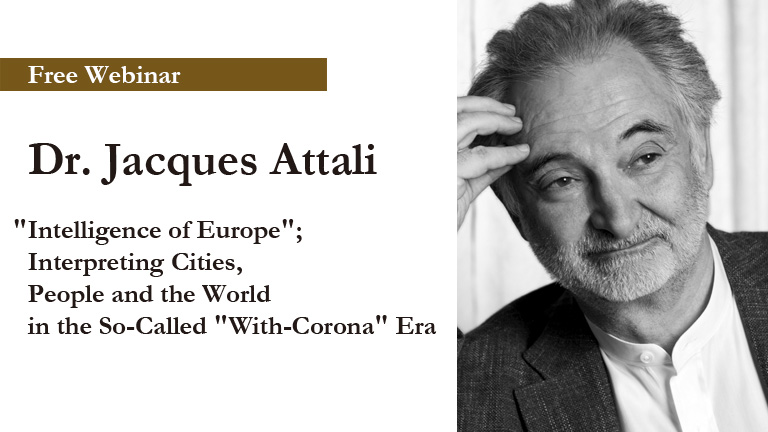 Purpose of the symposium
In 2020, the global spread of the novel coronavirus COVID-19 has significantly affected our society and economy.
Looking back at the history since the Industrial Revolution, the period of industrialization and mass production and consumption has been premised on a shift of population from rural to urban areas; in other words "sparse population" to "dense population." Every business activity in recent years, from office buildings and retail facilities to restaurants, is based on "volume" associated with "dense crowds."
That assumption has collapsed due to the fear of the novel coronavirus COVID-19.
It is no exaggeration to say that this is an event that will remain in the history of humanity, as we started calling it "BC/AC" (Before Corona/After Corona) to mark the end/beginning of the history. Since it takes a certain amount of time to develop a vaccine, it is inevitable to coexist with COVID-19.
Even if we manage to overcome COVID-19, the battle between humans and infectious diseases will still continue, given that there are a large number of unexpected infectious diseases in the nature.
How will our society and economy, and the world change in the era of "With-Corona"? In these days, in which national particularism can make a profit, how can humankind deal with global issues such as infectious diseases and global warming?
At this symposium, we would like to examine the answers to that questions together with the French thinker and economist, Dr. Jacques Attali, who is also referred to as "Intelligence of Europe." Then, we will discuss with experts including Dr. Attali, Prof. Kazunari Uchida, Prof. Kengo Kuma and Prof. Seiichiro Yonekura, about the community development and working style in the With-Corona era as well as the possibility of sustainable development goals (SDGs) and public-private partnership (PPP).
Information
Time & Date: 4:45pm to 7:00pm on Monday 28th of September 2020 (JST)
Venue: Online Webinar via Zoom
Languages: French, Japanese
Fee: Free
Apply: http://ptix.at/iN7uQ8
Panelists
Dr. Jacques Attali,
Prof. Kazunari Uchida, Professor at Waseda Business School (Graduate School of Business and Finance)
Prof. Kengo Kuma, Architect, Special Professor and Professor Emeritus at the University of Tokyo
Prof. Seiichiro Yonekura, Professor at Hitotsubashi University Institute of Innovation Research, Professor at Hosei University Business school of Innovation Management
Moderator
Mr. Kimikazu Uemura, Director of CPDS, FEF and OPPS
Program
1. Opening remark (4:45pm -) : Mr. Kuniaki Hanamura, Chairperson of CPDS
2. Guest speech (4:47pm -): Mr. Hiroto Izumi, Special Advisor to the Prime Minister
3. Introduction of the organizers (4:50pm -)
4. Keynote speech (5:00pm -): Dr. Jacques Attali, French economist and thinker, former president of the European Bank for Reconstruction and Development
5. Panel discussion (6:00pm -)
6. Closing remark (6:55pm -): Mr. Takeshi Maeda, Chairperson of FEF
Organizers
Construction Project Delivery System Council (CPDS)
Future Environment Forum (FEF)
Organization for PPP Promotion Support (OPPS)
Sponsors
Japanese government (MLIT and MEXT)
Japanese government agencies (JICA, UR)
Nikkei Inc., Nikkei Business Publications, Inc.,
United Nations Centre for Regional Development (UNCRD)