New members
They joined us: welcome to our new members 2022 - 4th Quarter
Discover the new members of the CCI France Japon
Our Benefactors Members

MIRAKL
IT & Computer

Mirakl offers the industry's first and most advanced enterprise marketplace SaaS platform. With Mirakl, organizations across B2B and B2C industries can launch marketplaces faster, grow bigger, and operate with confidence as they exceed rising customer expectations.
U ACTIVE CO., LTD.
Marketing, communication, PR, Media & Press
1) Video Production
Planning, producing, and general video editing and production work related to the following.
Television programs/Movies/Dramas/TV commercials/Web advertisements/Music videos (music videos)/PV(promotional video)/PR videos/Event/exhibition videos
2) Live Distribution Business
Rakuten Live, TikTok live, Instagram live, etc. as our core business for live commerce. Developing corporate live accounts and individual live performers, or dispatching live performers
Our Actives Members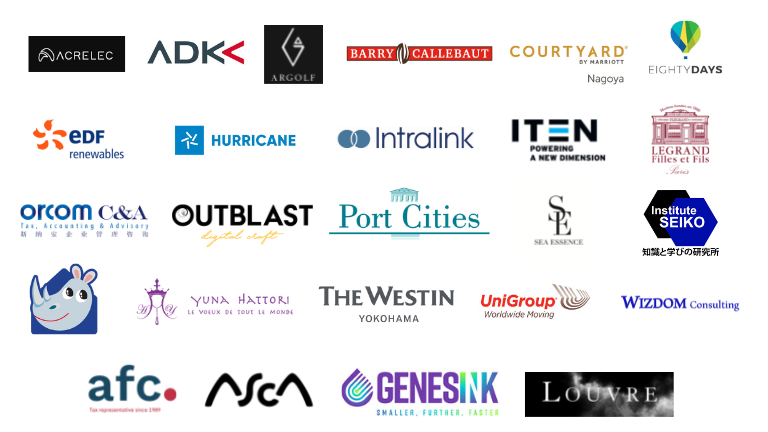 ACRELEC JAPAN
Manufacturing, Software & Website Development, IT & Computer
Acrelec is an expert in digitalization, providing smart store solutions for domestic and international restaurants and retailers. The industry leader in supplying kiosk ordering solutions to fast food outlets and quick service restaurants. Acrelec is now part of the Glory Group, a company specializing in cash handling machine management. Acrelec Osaka aims to build new solutions for the Japanese market in cooperation with GLORY.
ADK MARKETING SOLUTIONS INC.
Architecture, Construction & Infrastructure, Cultural & Creative, Design, Events management, Logistics, Shipping, Freight Forwarding & Import/Export, Marketing, communication, PR
Marketing solutions company/Advertising agency that provides integrated proposals and implementation of solutions to marketing issues, planning and buying of digital and mass media, data-driven marketing, etc.
Website


ARGOLF JAPAN
Retail, Entertainment
ARGOLF is a club manufacturer founded in 2010 by the Colas brothers, who work in the aviation industry in France.
We work to promote its products as a distributor in Japan.

BARRY CALLEBAUT
Food & Beverage

Manufacture and sale of chocolate and cocoa raw materials for the business sector.

COURTYARD BY MARRIOTT NAGOYA
Hotel
International Hotel in Nagoya opened in 2022, centrally located with the newest Meeting & Event facilities.
EDF RENEWABLES JAPAN KK
Energy & Power
EDF Renewables Japan is a subsidiary of EDF Renewables SA specializing in renewable energy production. As an integrated operator, the Group develops and finances the construction of renewable energy facilities, and manages operations and maintenance for its own account and for third parties.


EIGHTY DAYS
Travel, Tourism
Eighty Days is an accredited Yunus Social Business Company and Tokyo-based DMC founded in 2016. We aim to bolster the local economies of rural areas, protect and rejuvenate traditional cultures that are in danger of being lost, and bring overseas visitors to parts of Japan that we believe deserve more attention and appreciation than they're currently receiving. We specialize in providing high-end FIT and group tours, where we aim to connect adventurous visitors with local people eager to share their passion for their areas.
HURRICANE SAS
Leisure
Hurricane is a group which specializes in urban sports, offering global expertise in all aspects of event management, communication, and infrastructure provision. We work with our partners to create highly effective communication and engagement strategies targeted specifically at 15-25-year-olds. We have a single focus: to bring unforgettable action sports content and experience to a global audience.
ICHIMARU SOCIETE
Property & Real Estate
Parking lots and real estate management company

INTRALINK KK
Outsourcing & BPO

Intralink is an international business development and innovation consultancy with a deep specialism in East Asia. We enable:
- Companies to build their businesses in East Asia
- Corporates to address their innovation challenges through collaboration with startups and investors
- Governments to grow their exports to, and attract foreign investment from, Asia.
ITEN
Electronics & Electricals
ITEN is the leading company developing and manufacturing ecofriendly solid-state lithium-ion SMD micro batteries. Such micro batteries are rechargeable In a few minutes and can deliver power over a wide operating temperature range. They are used in many applications as back-up power supply, or to power autonomous sensor nodes or in applications like tracking and monitoring, smartphone and PC peripherals, smart cards, medical devices, home and building automation, smart cities, wearables, and e-textiles.
LEGRAND JAPON CO.
Wine and Spirits
Legrand Japan Co. is a Japanese subsidiary of Legrand & Co, owner of Legrand Fille et Fils, a wine merchant established in Paris since 1880. We sell carefully selected French wines to wine lovers, we also organise events with wine producers. In December 2022, Legrand's first overseas flagship store, Legrand Fille et Fils Tokyo, will open in Hiroo, Tokyo.
ORCOM C&A
Accounting, Audit
International Accounting, Audit and Advisory firm. Company founded in France. Locations abroad: China (Shanghai, Beijing, Guangzhou), Hong-Kong, Singapore, USA (NYC, Miami, Boston and LA), London, and 45 offices in France: +1,200 staff

OUTBLAST
Art, Luxury, Marketing, communication, PR
We make beautiful brands shine away from home. Successful global luxury brands must stay true to themselves and know when and how to culturally adapt. Accelerate the growth of your brand on local markets with digital marketing culturally adapted by luxury specialists in the field. We make your brand flourish locally with actions that effectively engage your audience: market specific strategy, content creation, social media marketing, influencers & digital PR, website development and media buying.
PORT CITIES JAPAN
Consulting, Outsourcing & BPO, IT & Computer
Port Cities is a leading Odoo implementation partner across the world, with branches in Hong Kong, Indonesia, Malaysia, Vietnam, Australia, Singapore, Mexico, Japan, Colombia, the United Kingdom, France & Thailand.
STM INC
Beauty products
Our brand "SEA ESSENCE" was born to help mothers who have trouble in city modern life. We try our best to serve simple and high-quality skin care products for women. With respect to the unique Japanese ocean culture, we only use natural ingredients. Our brand subject is to support women who have experienced pregnancy with skin trouble and psychological pressure from their daily life.
SEIKO INSTITUTE FOR EDUCATIONAL RESEARCH
Education&Training
・Medical, dental, veterinary, higher education and education support department ・School Corporate Services Division・Tripartite evaluation project・School reform consulting business ・International Situation Research Division ・Affiliated Academic Research Division
RENOVESTAL INC.
Architecture, Art
RENOVESTAL is a home improvement company founded in 1972. We've partnered with professionals who share our commitment to quality service. We aim to deliver the highest possible service while striving to exceed customer expectations. Our office in MITAKA works on projects throughout West Tokyo, which is our beloved local area. The word RENOVESTAL is an amalgam of words meaning renovation, best, style and smile. We build trust and produce results.
TOUT LE MONDE CO., LTD.
Beauty products

Cosmetic brand creation and special technique massage salon in Nagoya.

WEBSITE

THE WESTIN YOKOHAMA
Hotel

Hotel Industry

UNIGROUP WORLDWIDE JAPAN
Logistics, Shipping, Freight Forwarding & Import/Export

Solution provider in international mobility and global logistics services

WEBSITE
WIZDOM CONSULTING
Consulting

Consulting and Training for Advanced industries
Non-residents Members
AFC REPRESENTATION FISCALE
Accounting, Audit, Consulting

As a tax agent, our multilingual team supports you in the following areas for transactions in France and the EU:
1) Consumption tax and other indirect taxes
• VAT number registration in France and the EU
• VAT Filing returns, payments and refund;
• Management of Tax audits
• Other taxes (taxes on sweetened and drinking water, tax on polluting activities, petroleum/coal/natural gas excise tax)
2) Income withholding tax
Since 2019, AFC undertakes French social security and tax administration on behalf of companies without a permanent establishment in France.

3) Customs
• Customs law consultation
• Filing trade declarations for goods and services in France and the EU;
• Apply for an EORI number
4) Virtual office
We are happy to advise you on your address in France and offer a service that meets your needs.

website

ASCA SAS
Architecture, Energy & Power, Research & Development

ASCA develops and manufactures environmentally friendly customized and innovative solar solutions on an industrial scale. We propose aesthetic solutions which can be perfectly integrated into the architecture, sensors and urban furniture, offering unlimited freedom of design.

website
GENESINK
Biotechnology, Chemicals & Plastics

GenesInk was founded in 2010 by Corinne Versini.
GenesInk is a worldwide leader, specialized in the conductive and semi-conductive inks market. This innovative market represents the electronics of the future: flexible printed electronics. We have a team of 18 talented people.
Since GenesInk's creation we have been actively networking and partnering with industries and all related R&D centers and universities. This has given us the opportunity to collaborate with more than one thousand companies and R&D centers. Based on that global network of final users and OEMs, we have been able to understand the market and to anticipate the needs. That reflects one of the pillars of our innovation: listening to the voice of our customers. We design functional nano inks from particles synthesis to the end printing product ready to use by the customers. We free up electronics manufacturers to enable a new generation of consumer electronics products.
website


MUSEE DU LOUVRE
Art, Travel, Tourism

A former palace of kings, the Louvre has conveyed the history of France for more than eight hundred years. The Louvre exhibits Western works of art from the Middle Age to 1848, from ancient civilizations that preceded and influenced it and Islamic arts.
Its collections are among the most beautiful and diverse in the world. They contain works that are admired by all including the Mona Lisa, Winged Victory of Samothrace and Venus of Milo.
The Louvre is conducting its main missions and meeting its ever-changing challenges: conserving, enriching, and transmitting a unique cultural heritage to future generations; proposing a diverse cultural program; supporting education and training in art history and encouraging dialogue between the different periods in history and civilizations to connect our wide range of visitors to a common history.

website