New members
They joined us: welcome to our new members 2023 - 1st Quarter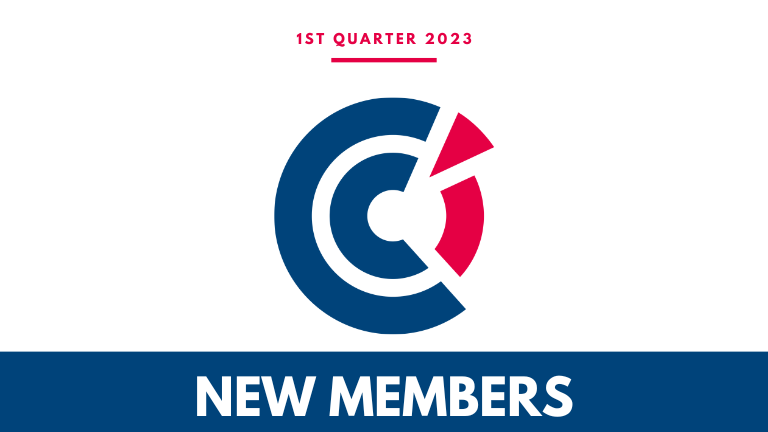 Discover the new members of the CCI France Japon

PIEROTH JAPAN K.K.
Distribution
Pieroth Japan, K.K. is the fine wine leader with more that 50 years history in Japan specialized in premium segment operating under a unique direct business model in both B2C and B2B with a presence in the 47 prefectures of Japan.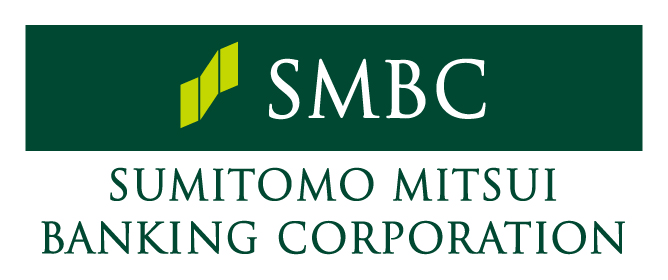 SUMITOMO MITSUI BANKING CORPORATION
Banking
SMBC has a large customer base, including individual customers, small/medium and large companies in all over Japan. We also have trades with companies in Europe, the US and Asia.
Our bank provides high-quality financial services through its leading group companies to our customers.
Based on SMBC's DNA of innovation, speed and ability to propose solutions, we aim to become a 'global solution provider that develops together with customers and society through the highest levels of trust'.

TELEPERFORMANCE JAPON
Business Process Outsourcing

Teleperformance, a leading global group in digitally integrated business services, serves as a strategic partner to the world's largest companies in a variety of industries.
It offers a One Office support service model that combines three broad families of high value-added solutions: customer experience management, back office services, and business process knowledge services.
Founded in Paris in 1978, the company has grown over the years and now has offices in 88 countries and more than 420,000 employees. We launched in the Japanese market in 2018 and already have 1,000 employees.
Our Actives Members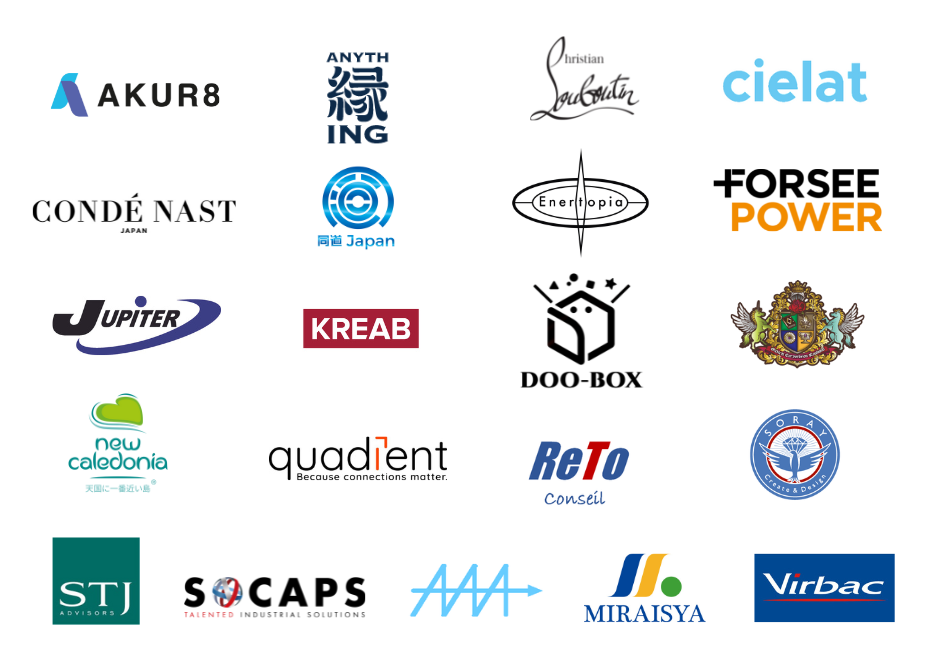 AKUR8
Insurance, Software, Technology

Akur8 is revolutionizing insurance pricing with Transparent AI, boosting insurers' pricing capabilities with unprecedented speed and accuracy across the pricing process without compromising on auditability or control. Our modular pricing platform automates technical and commercial premium modeling. It empowers insurers to compute adjusted and accurate rates in line with their commercial strategy while materially impacting their business and maintaining absolute control of the models created, as required by regulators worldwide. With Akur8, time spent modeling is reduced by 10x, the models' predictive power is increased by 10% and loss ratio improvement potential is boosted by 2-4%. Akur8 already serves 60+ customers across 25+ countries, including AXA, Generali, Munich Re, Tokio Marine North America Services (TMNAS); specialty insurers Canopius and MGA Bass Underwriters; consulting partners Xceedance and Perr & Knight; and insurtechs Manypets and wefox.
ANYTHING CO.,LTD.
Textile, Consumer goods, Culture, creation
Founded in 2000 by entrepreneur Kazuhiro Nishimura, Anything co.,ltd has been making the traditional apron 'Maekake' since 2004.
Headquartered in Tokyo, the factory is located in Toyohashi City, Aichi Prefecture, where it continues to maintain its traditional manufacturing methods.
10 shuttle looms that were made over 100 years ago, are still continuing to make authentic, high-quality MAEKAKE for people in Japan and around the world.
It is exhibited at every Maison et Objet in Paris and sold in about 50 shops in France.
CHRISTIAN LOUBOUTIN JAPAN COMPANY
Luxury
Import, sales and promotion of the Christian Louboutin brand and products in Japan.

CIELAT K.K
Health, medical and pharmaceutical, Beauty products, Cosmetics, Consumer goods
Cielat imports and distributes innovative hygiene items in Japan; especially the absorbent sanitary bags invented by Dr. Helewa. They are used in the hospital or at home; and in the context of emergency and disaster prevention (earthquakes, etc.); by individuals and communities. Cielat also has activities in the field of medical devices, health products and cosmetics.

CONDE NAST JAPAN
Media
Condé Nast is a global media company that produces some of the world's leading print, digital, video and social brands. These include Vogue, GQ, and Wired in Japan and The New Yorker, Vanity Fair, Wired and Architectural Digest (AD), Condé Nast Traveler and La Cucina Italiana, among others for global.

DOUMICHI JAPAN CO., LTD.
Computer, information systems, Softwares, Research and development
Development and sales of computer information systems(activities' summary): Applied research on various technologies related to artificial intelligence in the field of computer software; Research and development of applied electronic technology for venture capital Software industry; Manufacture and sale of computer peripherals; Information processing service and information provision service; Recruitment information; Service Internet connection intermediary; Internet access service industry; Website planning and production; Collection and sale of various information; Tourism business; Planning and operation of restaurants and other restaurants; Worker dispatch business and recruitment business; Any business incidental or related to the previous commitment.
ENERTOPIA JAPAN
Commerce: Buy and sell
Intermediary and consulting activity with international entities in the field of high technologies and import and export of equipment used in the high technology industry sectors.
JAPAN ADVISORY SERVICES
Consulting
Coaching & Consulting agency

JUPITER INTERNATIONAL CORPORATION
Commerce: Buy and sell, Consumer goods
Jupiter International Corporation has been importing famous branded consumer products since 1989. Our customers primarily consist of the major general merchandising stores (GMS), men's and ladies casual retail chain stores, sporting goods chain stores, and various special retail chain stores. In recent years, our customer base has expanded to the larger fast growing on-line e-commerce retailers in Japan, China and Korea.
KREAB K.K.
Marketing, communication, RP, Consulting, Accounting
Kreab is an international strategic communications consultancy founded in 1970 in Sweden. Through our unique approach to public and government relations, we enable our public and private sector clients to strengthen their brands, manage reputational risks and build valuable relationships with decision-makers. The Tokyo team is composed of native and bilingual speakers of 7 languages including French and English, while the global team consists of 500 consultants in 25 countries and 40 nationalities.
Our missions include:
- Daily support and targeted advice to improve media relations, message creation, development and implementation of digital and print media strategy, and media training.
- Navigating the Japanese political environment and building valuable long-term relations with policymakers through stakeholder mapping, policy monitoring, and organizing strategic meetings.

LACONICWOODSGROUP K.K.
Retail, Luxury, Logistics, transportation
We purchase products from each auction in Japan, classify the products by price rank, and export them overseas or retail them in Japan. At the same time, we have our own application and mail order site. Mainly blind boxes for sale of all kinds (brand goods, miscellaneous goods, works of art, souvenirs from each manufacturer, etc.).
MEDICAL CORPORATION KOUJINKAI MORIKAWA CLINIC
Health, medical and pharmaceutical
We treat patients with a wide variety of symptoms and diseases, from ordinary ones such as common colds, fever and other poor physical conditions to chronic diseases including hypertension and diabetes.
NOUVELLE-CALÉDONIE TOURISME
Travels, tourism
Nouvelle-Calédonie Tourisme (NCT), New Caledonia's tourist promotion agency, is an economic interest group (EIG) which acts as a link between its partners, institutions and professionals in the sector, to promote international tourism to the destination under its brand "Nouvelle-Calédonie Pacifique au Cœur" (New Caledonia, 天国に一番近い島). Founded in 2001, the structure, now under the aegis of the Government of New Caledonia, is based in Nouméa, but also has offices in Australia, metropolitan France, Japan, and New Zealand.

QUADIENT JAPAN INC.
Manufacturing Industry, Softwares
Quadient is an international company specialized in mailing equipment, business process automation and customer experience management. It was originally founded as Neopost. As of 2019, the company had about 5,693 employees and annual sales of €1.14 billion. Its products and services are sold in about 90 countries
RETO CONSEIL
Consulting, Industry, Energy
We provide advisory and consulting services, across multiple industries: - Business development, market strategy - Industrial and service projects, partnerships, M&A transactions - Operations management - Audits Focus on Asia-Pacific and Japan

SORAY LLC
Art: Culture, creation, design
SORAY LLC is an architectural decoration shop active in the Kyushu area.Architectural decoration includes everything from proposals for designed walls and color designs in construction.Incorporating various high-quality materials from Japan and overseas, we aim to shape our services to the customer's image and desires using our strong experience and technology, as well as our passionate manufacturing spirit.We are mainly engaged in exceptional painting work and the production of built-in furniture.Recently, We have been producing art panels and ceramics and exploring more and more design and art.
STJ ADVISORS GROUP LIMITED
Consulting, Accounting & Audit, Finance
STJ Advisors is an independent capital markets advisor specialising in IPOs. We advise on every stage of the IPO process and in particular bring an international flavour based on rigorous collection of data and analysis.
SOCAPS GROUP
Agro-food, Manufacturing Industry, Health, medical and pharmaceutical, Agriculture
SOCAPS is a technical service provider. We support machinery manufacturers worldwide for the installation and maintenance of their equipment thanks to our 1000+ Field Service Engineers and site managers based in 67 countries. We have a strong expertise in the following industries : Food & Beverage, Health Care & Cosmetics, Logistics & Assembly, Cleantech.

TOKIMEKI PLASTIC SURGERY
Other: Plastic surgery
Plastic surgery, dermatology, orthopedic surgery (skin repair and treatment of injuries and sequelae).
TRIPLE A MANAGEMENT
Chemicals, Plasturgy, Industry
Representing foreign companies in Japan
- Trading activities, mostly in non-ferrous metals & chemical products
- Management consulting
MIRAISHA CO., LTD.
Real Estate
Real estate brokerage, residential sales, rental investment, hotel management.
VIRBAC JAPAN
Health, medical and pharmaceutical, Agriculture
Virbac is a French company dedicated to animal health located in Carros, near Nice. It was founded in 1968 by veterinarian Pierre-Richard Dick. The company is the 6th largest veterinarian pharmaceutical group with a turnover of 1,064 million euros in 2021 (59% companion animal and 41% food producing animal). The company is a limited company with a board Euronext Paris stock exchange - compartiment A and is part of the reference index: SBF 120, and eligible SRD, PEA and PEA-PME.
Non-residents Members
PERCIPIO ROBOTICS
Manufacturing, Engineering, Technology
PERCIPIO ROBOTICS helps manufacturer to tackle the miniaturization challenge thanks to robotization of high precision assembly tasks for ultra miniature products. Specialized in micro-assembly processes, we bring robotic systems and devices to handle very small parts as well as software suite to develop manufacturing processes. Industrial robotic systems for highly miniaturized products assembly : Products of few mm3 with micrometric components can be very difficult to build and assembly is a real challenge at this scale. We build robots and software to handle such taks and products.
ISCALE SOFTWARE SERVICES PTE. LTD.
Outsourcing & BPO, Software & Website Development, IT & Computer
Software Development Outsourcing: - Web development - Mobile development - Dedicated software development teams - Quality Assurance outsourcing - DevOps/Cloud Infrastructure outsourcing Production office in the Philippines with over 500 employees. 10+ years of experience in delivering top tier software projects

VALETTE BOVE LAW FIRM
Lawyer & Legal Services
Based in Luxembourg, the heart of Europe, Marseille, Provence-Alpes-Côte d'Azur, and Burbank, California, with a Japan Desk, Valette Bove Law Firm provides legal services in many areas of intervention. Expert in business law, corporate law and intellectual property law at an international level, Valette Bove Law Firm provides assistance and advice to both companies and individuals. Our lawyers represent your interests before the Luxembourg, French and European Courts.
Our Individuals Members
Mme BAILLAT Marion
M. CHOMEL Patrick
Mme HONMA Yae
M. NOGAMI Seiichi