New members
They joined us: welcome to our new members!
Discover the new members of the CCI France Japon
Our Benefactors Members

BROSE
Automotive
Brose is the world's fourth-largest family-owned automotive supplier with over 100 years of history. It is one of the world's leading manufacturers of mechatronic systems for vehicle doors, seats, and electric motors.
Worldwide, every second new vehicle is equipped with at least one Brose product, with our innovative approaches for flexible vehicle interiors, vehicle access, and motors and drives for steering, brakes, transmissions and engine cooling.
Brose has approximately 26,000 employees at 63 locations in 23 countries. Brose Japan was established in 1993 and has since been establishing close ties with our customers and partners in Japan.
Website / Read the detailed presentation

***
BOSTON CONSULTING GROUP
Consulting
Boston Consulting Group partners with leaders in business and society to tackle their most important challenges and capture their greatest opportunities.
BCG was the pioneer in business strategy when it was founded in 1963. Today, we help clients with total transformation—inspiring complex change, enabling organizations to grow, building competitive advantage, and driving bottom-line impact.
To succeed, organizations must blend digital and human capabilities. Our diverse, global teams bring deep industry and functional expertise and a range of perspectives to spark change.
BCG delivers solutions through leading-edge management consulting along with technology and design, corporate and digital ventures—and business purpose.
We work in a uniquely collaborative model across the firm and throughout all levels of the client organization, generating results that allow our clients to thrive.
Website / Read the detailed presentation

***
ROQUETTE JAPAN KK
Food and Beverage
Roquette is one the world's biggest producers of starches & derivatives and the world's leader in the fabrication of polyols, pyrogen-free substances and dry sugars.
Their wide variety of products directly shows the high level of expertise of the industries that trust Roquette : nutrition, pharmaceutical, cosmetics, paper mills, corrugated fiberboards, fermentation, biochemistry and animal nutrition.
Our other members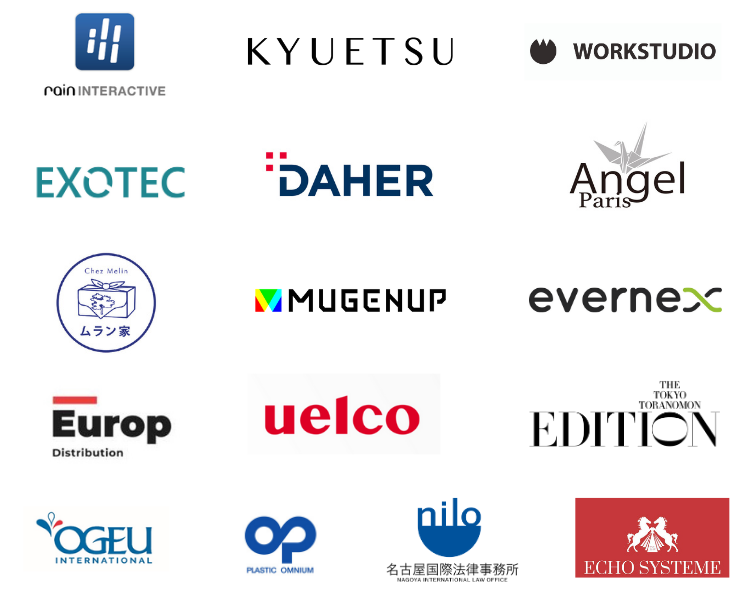 RAIN INTERACTIVE
Marketing, Communication, PR

Rain Interactive has been providing digital marketing services to Japanese and foreign companies for over 10 years.
We build digital strategies to create better experiences for customers and implement the best tools to help businesses reach their business goals.

Website

***
KYUETSU S.A.R.L
Marketing, Tourism, PR

Promotion of sake and food related products between France & Japan.
Promotion of local tourism.
Trainings programs focused on gastronomy and development of new research products.

Website

***
WORKSTUDIO CORPORATION
Environmental, Furnishing & Interior Design

Development and manufacturing of sustainable materials.

Website

***
EXOTEC NIHON CO. LTD.,
Software & Website Development, Logistics, Shipping, Freight Forwarding & Import/Export

Exotec is a developing a state-of-the-art robotic system allowing to optimize commands management for e-commerce platforms. Founded in 2015 by Romain Moulin and Renaud Heitz, Exotec kept innovating and changing the rules of the intralogistics by offering to e-commerce platforms an agile solution that is constantly adapting itself to their growth while providing them equivalent performances to the market's leaders.
***
DAHER AEROSPACE
Aviation & Aerospace

Daher is an aircraft manufacturer and an industrial and services supplier. Daher's expertise has granted them leadership in 3 main businesses: aircraft construction, aeronautical equipment and systems, logistics and supply chains – and generated a total of 1,2 billion euros turnover in 2019.
Thanks to its familial ownership, Daher is focused on innovating since its foundation in 1863. With a presence in 13 countries, Daher is one of the world's main actor of the industry 4.0 by conceiving and developing high value solutions for its partners.

Website

***
ORANGERIE KOYO COMPANY LIMITED
Traduction, interprétariat, immobilier

Administrative management of condominiums in Osaka.
Since 2019, Orangerie Koyo publish and translate French picture books. On the same year, they published the translation of the French book "Where is my cat ?" of Camille Garloche / Mai OI (abc melody / Maruzen).
Orangerie Koyo wishes to keep broadening its horizons while strengthening its positioning as a link between Japan and France.

***
ANGEL INC
Retail, Cultural & Creative, Beauty Products

Angel Inc. is a shop established in 1955 in Nagoya. Its owner, Mrs Fujisaki, lives between Japan and France and imports from the latter the clothes, jewelry, accessories etc. she sells in her shop. She also produces the cosmetic brand « Savonnière », that are organic and natural soaps made in Provence, in the South of France. In Japan, she created the natural skin products brand « Fujiskin", made from Nara pure and clear water. The word "Fujiskin" comes from her own name "Fujisaki" and from mount Fuji, as a wish for its users to get a skin as beautiful and elegant as the mountain. These products were designed in these spirits. Lately, Mrs Fujisaki introduces in French and in kimono the greatest parts of traditional Japanese culture on her YouTube channel. From Nagoya, at the center of both the Chubu region and Japan, she showcases the Japanese heritage.

Website

***
CHEZ MELIN INC.
Consulting, Distribution, Events management

Focused on import and export, consulting in marketing, innovation, original and playful discoveries and being in harmony with nature. Their activities represent a real bridge between companies and French products in Japan.

Website

***
MUGENUP INC.
Consulting, Cultural & Creative, Design, Marketing, communication, PR, Media & Press, Technology

MUGENUP, Inc. (Head office: Shinjuku-ku, Tokyo, CEO: Shogo Ito) is a Japanese company providing a wide array of creative content planning and production services ranging from 2D and 3D assets for games, illustration, video, and animation. Mugenup also develops and markets its content production online management system under the Save Point brand.

Website

***
EVERNEX JAPAN K.K.
Technology, IT & Computer

Evernex is a global, independent IT Life Services company with over 35 years of multi-vendor hardware experience. We offer end-to-end data center maintenance service that allows you to extend the life of your IT assets. We service hardware such as servers, storage and networking equipment. Our third party maintenance services cover almost all leading manufacturers in the world: IBM, HP, DELL, Fujitsu, EMC, NetApp, Hitachi, Brocade, Cisco, Juniper, as well as many others. With our innovative approach to service, we'll help you change the way you manage your IT infrastructure. Evernex allows you to maintain your IT systems beyond standard OEM end-of-service dates – saving you both time and money.

Website

***
EUROP DISTRIBUTION
Food & Beverage, Mining & Metals, Clothing / Textile / Garment / Accessories

International trade and trading company.
Import, export, e-commerce, food related brand and products representation, argan oil, cosmetics and steel.

Website

***
UELCO, INC.
Consulting, Construction & Infrastructure

Holding company for the group and out-sourcing of general and financial affairs.

Website

***
THE TOKYO EDITION, TORANOMON
Hotel

EDITION is an unexpected and refreshing collection of individualized, one-of-a-kind hotels. Displaying the best of dining and entertainment, services and amenities all under one roof, The Tokyo EDITION, Toranomon will showcase a completely unique concept and an oasis of sophistication in Japan. Just minutes from Tokyo's best art and cultural landmarks, fashion, nightlife and international cuisine, the EDITION experience and lifestyle is an unprecedented intersection and a perfect balance between taste-making design, innovation and luxury service. The Tokyo EDITION, Toranomon will debut a new generation of luxury featuring 206 guest rooms and suites with iconic views of Tokyo skyline including 15 rooms with outdoor terraces overlooking Tokyo Tower and Tokyo Bay, 3 restaurants including a specialty restaurant with an outdoor terrace, EDITION's signature cocktail bar, The SPA at The Tokyo EDITION, Toranomon with 6 treatment rooms, state-of-the-art gym and 387sqm of events space.

Website

***
OGEU INTERNATIONAL
Fast Moving Consumer Goods (FMCG)

The story began in 1820 in the heart of the Pyrenees. Ogeu Group's great adventure started when a thermal cure center was created right at the springs location and later when a mineral water bottling plant was set up there. Ogeu Group has now become the leader of the regional water market in France.
Since it was founded, the company has been ruled by the same family. Today the company's CEO Jean-Hervé Chassaigne and his sister Pascale Lapassade go on writing the story of the Group's great adventure which began nearly 200 years ago at the foot of our mountains.

Website

***
PLASTIC OMNIUM K.K.
Automotive

Development, design, manufacturing and sales of plastic fuel tanks for automobiles.

Website

***
NAGOYA INTERNATIONAL LAW OFFICE
Lawyer & Legal Services

Nagoya International Law Office is one of the top offices in Nagoya specializing in assisting and representing international business entities and residents. All our attorneys are able to effectively communicate in English. We have extensive experience in regard to international fields, such as International Transaction, Visa problems, communication with Immigration bureau. We are supporting various clients including foreign companies and business owners in Japan, Japanese companies operating abroad, and foreigners who would like to work in Japan.

Website

***
ECHO SYSTÈME AGENCY SND.BHD
Human Resources & Recruitment
Specialized in professional trainings directed to individuals and companies: Expertise, Mindset, Retail and Etiquette.
International company with premium expertise in NLP (Neuro-linguistic programming) strategies designed for personal development, retail excellence and business performance.
Website

***