The Gala of Tokyo
Since 1978, the Gala of Tokyo has been celebrating French gastronomy, culture and lifestyle. More than 800 guests get together every year in one of Tokyo's finest hotels to discover the cuisine of a great French chef and the live performance of an artist. The evening wraps up with a giant raffle awarding prizes from the biggest French brands.
A must-go event for the French-Japanese community!
Tokyo Gala Dinner 2022
The French Chamber of Commerce and Industries in Japan has the pleasure to announce our 44th Tokyo Gala dinner that will take place on Friday, November 11, 2022 at the Cerulean Tower Tokyu Hotel.
This year will bring you into the rich and abundant region of "Bourgogne-Franche-Comté", renowned for its natural, architectural and gastronomic heritage, as well as for its positioning at the forefront of research and innovation.
Back to the previous editions :
Gala Tokyo 2021
The CCI France Japon has organized its 43rd dinner party of Tokyo Gala on Thursday 25 November 2021 from 18:30 at the Grand Prince Hotel Shin Takanawa.
Sponsors / Partners : 2021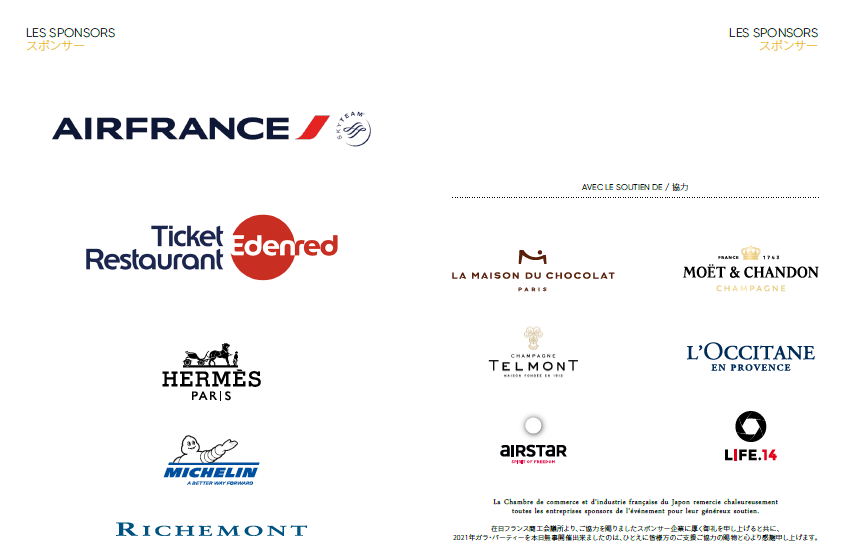 More information on the dedicated page of the 2022 Gala of Tokyo
More information